In the ever-changing landscape of website development, staying ahead of the curve is crucial to ensure that your website remains competitive and relevant. As we look towards 2023 and beyond, new technologies and innovations are shaping the future of website development. In this blog, we will explore the top 10 trends that are expected to dominate the industry in the coming years.
1. Progressive Web Apps (PWAs):
Progressive Web Apps (PWAs) have been gaining traction in recent years, and their popularity is expected to continue in 2023 and beyond. PWAs offer users a seamless and fast experience by combining the best features of web and mobile applications. They are designed to work on any device and can be accessed through a web browser, eliminating the need for users to download and install an app. PWAs provide offline access, push notifications, and enhanced performance, making them an attractive option for businesses aiming to engage users effectively.
2. Voice Search Optimization:
The rise of voice assistants like Alexa, Siri, and Google Assistant has changed the way people search for information online. Voice search is becoming increasingly popular, and it is estimated that by 2023, more than half of all searches will be voice-based. Website owners need to optimize their sites for voice search to ensure they remain visible to users who prefer to interact with their devices using voice commands. This involves using natural language in content, focusing on long-tail keywords, and providing concise answers to common questions.
3. Artificial Intelligence and Machine Learning:
Artificial Intelligence (AI) and Machine Learning (ML) are revolutionizing website development. These technologies can analyze user behavior, personalize content, and improve user experiences. AI-powered chatbots are being used to handle customer queries and provide assistance round the clock, reducing response times and improving customer satisfaction. Machine learning algorithms can analyze user data to deliver personalized content and recommendations, creating a more engaging and relevant user experience.
4. Chatbots and Virtual Assistants:
Chatbots and virtual assistants are transforming customer support on websites. These AI-powered tools can handle customer queries, provide real-time assistance, and even complete transactions. By using chatbots, businesses can reduce the need for human intervention in customer service, thus saving time and resources. Virtual assistants, on the other hand, can provide more comprehensive support and guidance, improving the overall user experience on the website.
5. Motion UI:
Motion UI refers to the use of animations and transitions to create interactive and engaging user experiences. This trend is gaining popularity as it adds a level of interactivity and dynamism to websites, making them stand out in a competitive digital landscape. Motion UI can be used to create eye-catching hover effects, scrolling animations, and page transitions. When used appropriately, motion UI can enhance the user experience and make the website more memorable for visitors.
6. Cybersecurity and Data Privacy:
With the increasing frequency of cyberattacks and data breaches, cybersecurity has become a top priority for website development. Users are more concerned about the security of their personal information, and websites need to implement robust security measures to protect user data and maintain trust. SSL certificates, two-factor authentication, and regular security audits are some of the measures that website owners should consider to ensure their websites are secure.
7. Dark Mode:
Dark mode is gaining popularity as it reduces eye strain and saves battery life on devices. It is especially popular among users who browse the internet at night or in low-light conditions. Websites that offer a dark mode option are likely to attract more users who prefer this feature. Implementing dark mode on a website can be as simple as providing a toggle switch that allows users to switch between light and dark themes.
8. Augmented Reality (AR) and Virtual Reality (VR):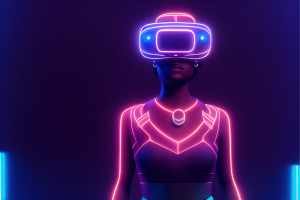 AR and VR technologies are making their way into website development, offering users immersive and interactive experiences. AR can be used to showcase products in a more engaging way, allowing users to visualize how they would look in real life. VR, on the other hand, can be used to create virtual tours and experiences, allowing users to explore a space without physically being there. These technologies are especially valuable for industries like real estate, tourism, and e-commerce.
9. Minimalistic Design:
Clean and minimalistic website designs have been a popular trend for some time, and they are expected to continue in 2023 and beyond. Minimalistic designs focus on essential elements and remove clutter, resulting in faster load times and improved user experiences. By simplifying the design, websites can deliver a more focused and purposeful message to their users.
10. Blockchain Integration:
Blockchain technology is being explored in website development to enhance security, transparency, and user trust. Blockchain allows for decentralized and secure storage of data, making it more difficult for hackers to tamper with information. It can be used for secure payments, user authentication, and data verification. Blockchain integration is still in its early stages, but it has the potential to revolutionize website development and improve the overall user experience.
Al Jury IT - Your Partner in Future-Ready Website Development
As the landscape of website development continues to evolve, businesses need a reliable partner that can help them stay at the forefront of technology. Al Jury IT is a leading web development service in the Sultanate of Oman, offering tailored solutions to meet your unique business needs. With a team of experts that keeps up with the latest trends and technologies, Al Jury IT is dedicated to providing cutting-edge solutions to enhance your website's performance and ensure it aligns with the future of website development. Whether you need to optimize your website for voice search, implement AI-powered chatbots, or enhance your cybersecurity measures, Al Jury IT has the expertise to help you achieve your goals.